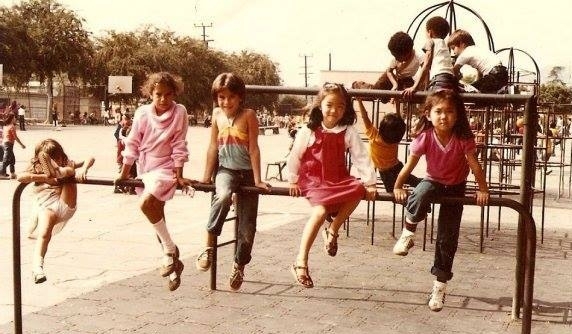 the awkward one on the left.
Rebecca Jordan-Glum is a Los Angeles based artist, author/illustrator and designer. She grew up in the heart of the Los Angeles melting pot, eating latkes and tabbouleh and sushi and tamales; dressing like a boy and in chinese silk pajamas; wearing her hair in cornrows or a mullet or shorn completely off— and using bad words in too many languages to count.
In person, she can often be found looking awkward and out of place.
On paper, she looks rather accomplished, with a BFA in Communication Design from Pratt Institute in New York where she graduated with the Illustration Department's highest award for Outstanding Achievement in Illustration. Her debut picture book as author/illustrator, The Trouble with Penguins, published by Roaring Brook Press/ Macmillan— is about a group of compulsive Antarctic penguins that develop a disastrous love of campfires and discover the hard way that some things are meant to be shared. Publication is set for Fall 2020. Rebecca is currently working on her 2nd book.
Other notable projects include:
illustrating the picture book, A Fairy Tale, which was honored with a 2015 Gold Mom's Choice Award and featured on Tinkerlab,
being selected by Kspace Contemporary for inclusion in the public Loteria! mural made possible by the National Endowment for the Arts,
creating the artwork for the Amazon Studios film An American Girl Story: MaryEllen 1955.
————————————————————————————————————————————————————-
Rebecca is represented by Erica Rand Silverman of Stimola Literary Studio.
Want to know more? Read this interview.